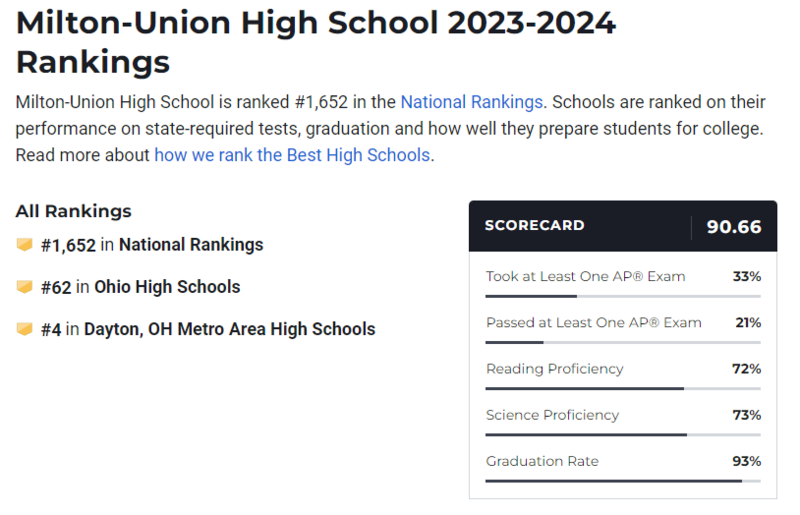 Several regional media outlets including, but not limited to, WHIO, reported outcomes from the most recent U.S. News & World Report list of Best High Schools. Based on a variety of data, Milton-Union High School ranked 62nd along with 13 other greater Dayton area schools included in Ohio's top 100.
Based on college readiness, advanced course offerings, state assessment results, and graduation rate, U.S. News & World Report, ranked 17,680 schools nationally and 741 in Ohio. Regardless of methodology, being mentioned within the top 100 schools in the state is quite an honor.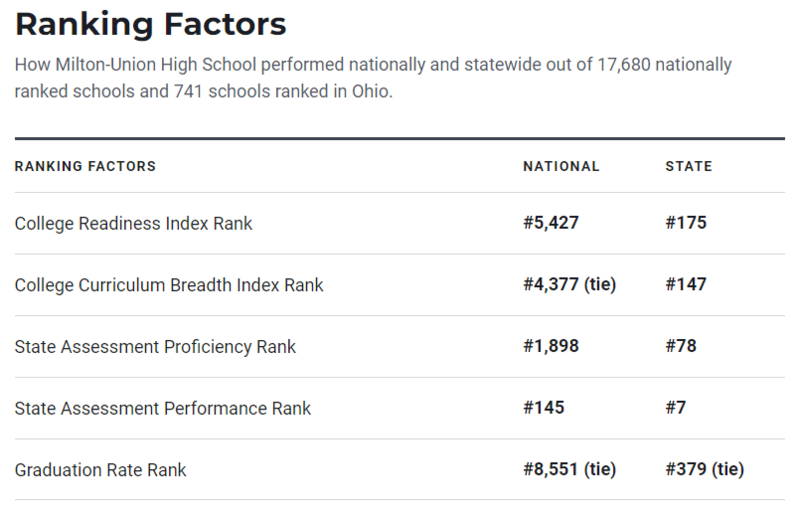 Not only does such recognition acknowledge the dedication and commitment of high school students, staff members, parents, and families but also highlights the work of employees and educators across the district. Elementary and middle school teachers and administrators should also be congratulated for their roles assisting students along their individual journeys. Also, recognition like this emphasizes the importance of administrative assistants, bus drivers, food service providers, and maintenance and custodial staff members who are indispensable to establish the environment necessary for teaching, learning, and individual growth. For more information, including the complete list of Best Ohio High Schools and supporting methodology, please follow the link to the U.S. News & World Report website.
Recognitions like this remind us of the importance of people, and the pride we should feel daily not only for an opportunity to work with dedicated colleagues and students but also such a supportive community of parents, families, and partners.
There is nothing like being a Milton-Union Bulldog, so congratulations to Bulldogs everywhere on the work of your community school and alma mater!